Custom and bespoke puppets
We will make a custom puppet for you. We make puppets for both individuals and companies who want to give something special and original. Your imagination is not limited, so we can make for you puppets of your friends, colleagues, fairy tale and film characters, animals and many others.
Puppets are handmade from the wood (mostly linden wood) and are manually decorated. Delivery time is between 3 and 8 weeks. Depends on our current capacity. We produce also classical hand puppets and so called muppets, which are puppets controlled by hand and wires.
Why want to have a custom made puppet
»» An extraordinary gift for all private and corporate events or anniversaries (birthdays, weddings, name dates, Christmas etc.).
»» Puppet will become an original piece of art (family silver) lasting for generations.
»» Wide thematic options: favourite characters from bedtime stories or other Czech and foreign films and TV series.
»» We make puppets also without guiding lines, we can make figure with various mobility options or company mascot.
»» You can have puppet of yourself or some family member – grandma, grandpa, mother, father, kids or friends.
How much is such a puppet
First of all we have to point out, that all parts of the puppet are handmade. Starting with the sketch and cutting up to dress making, all this takes several tenths of hours. Then other parameters are important as are height, dress style and the actual puppet character. The price starts at € 659 (height 35 cm / 13,78 inches). The price for a 50 cm / 19,68 inches is € 100 higher.  We shall specify the price once we agree on details. As this is a tailor-made production, we require 50% of the agreed price to be paid in advance.  Advance is to be paid prior to commencement of the work to our account. Remaining amount is due upon taking over.
When ordering 2 custom puppets, we offer a discount of € 50. When ordering 3 puppets we offer €50 discount!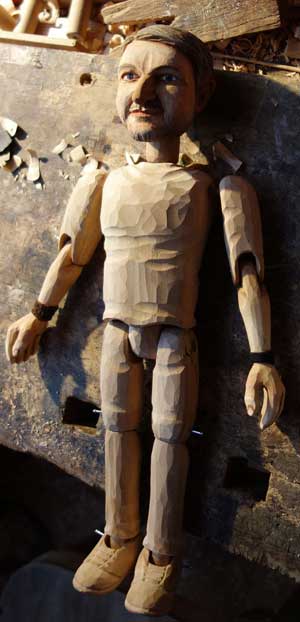 What we need to make you happy
»» Photo or picture of the given character.
»» Should the puppet copy a person, we need front and profile photo, the best is photo of the full body.
»» Clothing style for him/ her on the puppet, type of shoes and colour of eyes.
»» Describe further details which might have important impact on final look of the puppet.
Would you like to order tailor made puppet or need more information? Contact us on magic@magicofpuppets.com or tel. No. +420 737 502 973
Our show – custom-made puppets